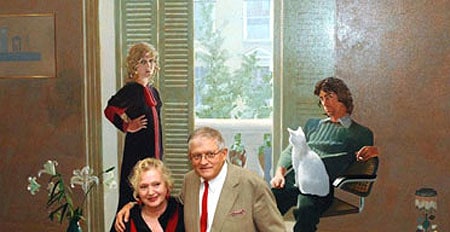 The first major survey of David Hockney's portraits went on display at the National Portrait Gallery last week:
"The exhibition contains numerous self-portraits, including one from 1954 when he was an intense and precocious 17-year-old, again never seen by the public before. The painting was discovered seven years ago in an attic. Hockney, as he put it, lives 'on location in Bridlington as they say in Hollywood' while keeping his base in Los Angeles."
Hockney was joined in the photo above by Celia Birtwell, who with her then husband Ossie Clark were captured by the artist 36 years earlier, in the background portrait "Mr and Mrs Clark and Percy".
Previously
Hockney and Warhol Items Set Auction Records [tr]