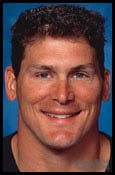 ESPN has relieved announcer Brian Kinchen from his on-air duties for comments made during the Iowa-NIU game on Saturday, which I posted here yesterday. Sports Illustrated pretty much sums Kinchen's comments up:
During the game Saturday, Kinchen was explaining the need for receivers to make catches with their hands because they are "tender" and can "caress" the ball. He then paused and said, "that's kind of gay, but hey …"
Kinchen, whose job with the network is still under review, apologized for the remarks: "They were completely inappropriate and not at all a reflection of who I am or the way I perform my work. I have learned from my mistake and look forward to continuing my broadcasting career."
ESPN absolutely did the right thing in expressing their unwillingness to tolerate the use of the word gay as derogatory in any sense.