Gays win in Hong Kong. The government has decided not to appeal a ruling that declared its ban on gay sex under the age of 21 unconstitutional. The law made gay sex under the age of 21 punishable by life imprisonment. Said, William Leung, the 20-year-old who challenged the law: "When you have a law that says committing certain things can put you in jail for life, it must be something really bad. It has to be something like serial murder or trafficking arms in huge quantities … (not) being gay and having a fulfilling gay relationship."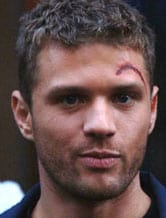 Ryan Philippe: Scarface.

Pet Shop Boys "suave and lovable" in NYC concert, which was the second concert in recent memory to prominently feature a message about the misguided leaders George Bush and Tony Blair: "The concert was a reminder that these two have kept busy, recording elegant pop songs that often manage to be sly and silly at the same time."

Conservative UK Party forges agreement with gay rights organization Stonewall: "It seems to us absolutely the right thing to do. It's not just about gay, lesbian and bisexual people . . . people should see us as a party that is inclusive and respectful of everyone in society. We haven't always been seen as that."

Extract from Indian plant may provide key to safe, sunless tan based on experiments with rodents: "To our amazement the mice started to turn really dark, virtually jet black."

Dissecting the McConaughey bulge.

Vanity tacos: "Tom Ford was spotted at Tacqueria, a high-priced taco stand in London's Notting Hill neighborhood, swilling margaritas with Vanity Fair fashion guru Elizabeth Saltzman and writer/director Chris Weitz (presumably in the city to prep his adaptation of Philip Pullman's 'His Dark Material'). Ford asked the manager to turn down the lights above their table. Mission accomplished, he said, 'Great. Now we all look even more beautiful.'"

Which rising male R&B star likes to get friendly with the guys?