With pounding of fists and plenty of amens, a wingnut forum held by the anti-gay Family Research Council in Boston over the weekend broadcast anti-gay rhetoric to a crowd of 1,000 and to about 80-million people over Christian radio and TV networks.
The featured speaker at this forum was none other than Massachusetts governor and presidential hopeful Mitt Romney, once again vocalizing his position against gay marriage, which has brought commerce to his state and equal rights to hundreds of gay couples who have chosen to tie the knot there since it became legal in 2004.
Said Romney: "Here in Massachusetts, activist judges struck a blow to the foundation of civilization — the family. What (the judges) ignored is that marriage is not primarily about adults, marriage is about the nurturing and development of children … every child deserves a mother and a father."
I don't see the sky falling, do you? But yes, the conservatives are once again pulling out their anti-gay marriage agenda to energize their constituents before the November elections.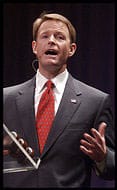 Said Tony Perkins, president of the FRC: "When we look at what has happened with same-sex marriage, as it began in this state and threatens to spread across the country, we've seen in its wake the loss of religious freedoms and the ability to speak out based upon one's moral convictions."
But will the big wingnut scare work this time around? Kirk Johnson in the NYT writes that the issue doesn't have the same "punch" as it did in the last elections, citing other, more pressing issues like the war in Iraq, slick new campaigns from gay marriage supporters, and "middle-ground" solutions like civil partnerships that have sprung up since the last election.
Another factor involves what may happen in the courts before the election: "Conservatives like Mr. Paul of the Colorado marriage group say the low-key tenor of the same-sex marriage debate could change in a thunderclap if a court decision that appears to undermine traditional marriage boundaries is handed down before the election. The New Jersey Supreme Court has a case pending and could issue a decision before Election Day."