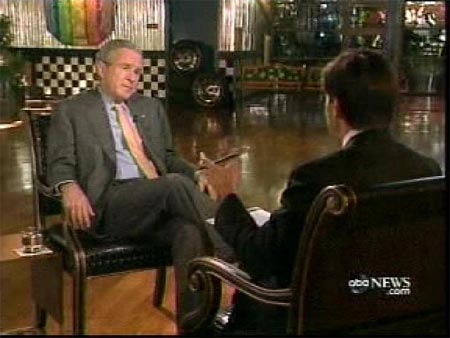 A "hysterical coincidence" or some kind of subliminal message? That's what the folks over at AmericaBlog are asking about the placement of a rainbow banner during George Stephanopoulos' interview of the POTUS on Sunday's This Week.
AmericaBlog notes: "Everything this White House does is scripted. There is simply no way that Bush did this interview without his people intentionally choosing to have a rainbow flag right behind his head, framing the entire shot. Look at these photos, that flag was clearly meant to be where it is in the frame. The question is why?"
Is the White House trying to send a message of solidarity to gay people following all the fallout from the Mark Foley scandal? That's one theory being floated.
However, to me the letters seen at the bottom of the flag do look like they could form the word "Pace" which could provide an even greater irony.
Pace, the Italian word for "Peace" is emblazoned on rainbow flags used in a campaign opposing the war in Iraq.