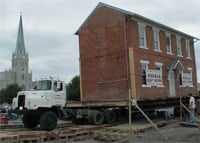 I'll be moving the Towleroad headquarters to its new hood today, so you'll most likely see some posting later today if I make it there safely.
While I'm gone you may want to play in the archives — pulldown menu to the right.
I'm very happy to say that Towleroad celebrated its 3rd Birthday yesterday.
October 19, 2003 was the day I converted my then "homepage" to a blog. 4,295 blog posts and 46,383 comments later I'm still here, and I thank you for it.
Back in a flash!