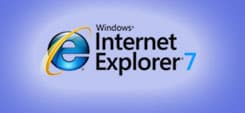 Microsoft's web browser Internet Explorer version 7 has finally been released! The first major update in over 5 years, IE7 overhauls the design, adding features like tabbed browsing, an RSS feed reader, and major security enhancements. Shortly after its launch, the IE7 team found themselves defending the browser against accusations that it had security vulnerabilities and other bugs. Some found the update disappointing, since it has been so long overdue and really only adds features that rival browsers like Firefox and Opera have had for years. However, it is the most widely used browser, and Windows will begin to automatically update IE to version 7 on user machines in the coming weeks.
Taking his gift for international diplomacy to the next frontier, Bush signed the National Space Policy, which gives "freedom of action in space" to the United States while also asserting "a right to deny access to space to anyone 'hostile to U.S. interests.'" Them's fightin' words?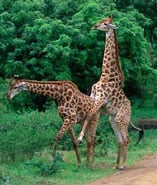 A new exhibit
at the Oslo Museum of Natural History explores homosexuality in the
animal kingdom in order to refute the charge that homosexual acts are
"against nature." The exhibit shows evidence of both sex-for-pleasure
and long-term same-sex relationships observed among 1,500 animal
species. Said the show's curators: "Homosexuality is a common and widespread phenomenon in the animal world."
In what might be a new trend now that the popular video site is backed by a internet giant, YouTube was forced to pull down nearly 30,000 videos when the Japan Society for Rights of Authors, Composers and Publishers complained of copyright infringement. The site has a policy for complying with any such requests, but a lawsuit isn't out of the question. YouTube has also been working with media companies to show copyrighted video in exchange for ad revenue.
NBC announced this week that it is scaling back its television network programming and news outlets with an eye towards new models of digital media distribution. The former home of "Friends" and "Frasier" will phase out scripted drama/comedy shows from its first hour of prime time in exchange for cheaper game and reality show programming.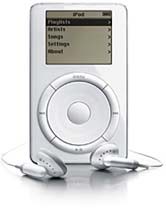 Five years ago, on October 23rd, 2001, the iPod was launched.
(For perspective, it was only about a month after 9/11). In this short
period of time, the digital music player has had a major cultural
impact: "Simply put, Apple invigorated the portable music player market and made
it safe for hipsters to once again walk around with headphones."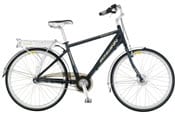 Schwinn has announced its newest line of electric bicycles, due in 2007. The designs are decidedly retro, and the motorized components are cleverly hidden in the frame. The rechargeable lithium polymer battery lasts for 40 miles of riding. Treehugger applauds the subtlety of Schwinn's designs: "Beautiful as they may be to the more deeply appreciating ecological
citizen, electric bikes won't go big time until they can blend in the
with rest of the pack."
An important figure of modern science and culture has now evolved into a digital species: the complete works of Charles Darwin have been put online. Run by Cambridge University, the project features a collection of 50,000 pages and 40,000 images from the influential naturalist's notebooks and published writings.
Daniel Williford is our TowleTech correspondent.

You can visit him at his blog, Until Today…