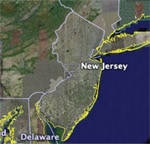 The ruling will come tomorrow at 3 pm, says a notice on the court's website.
October surprise? The decision will certainly have political repercussions for the upcoming election, particularly if the court rules in favor of same-sex marriage. Just what they will be and how severe is anyone's guess. Feel free to leave your thoughts in the comments.
Garden State Equality has announced that a statewide rally will take place on Wednesday night at 7:00 pm, Unitarian Church of Montclair, 67 Church Street, downtown Montclair. The rally will take place whether the court's decision is for or against.