Former Army Specialist Justin Fisher, convicted of conspiracy in the July 1999 murder of PFC Barry Winchell, has been released from prison. Fisher was Winchell's roommate at Fort Campbell, Kentucky, and spurred on fellow soldier Calvin Glover to beat Winchell to death one night with a baseball bat after months of anti-gay harassment.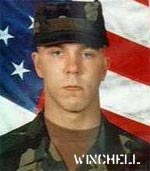 Winchell had been dating a transgender performer named Calpernia Adams whom he met on a trip to a Nashville transgender club with Fisher. Fisher stood by several months later as Glover bludgeoned Winchell to death in a brutal homophobic attack in his sleep.
Fisher had been sentenced to twelve and a half years for his part in the murder. He served only seven.
The story of Winchell's murder was told in the 2003 film Soldier's Girl. Fisher was played by Shawn Hatosy who appears in the clip below, the first eight minutes of Soldier's Girl.
Servicemens Legal Defense Fund (SLDN) executive director C. Dixon Osburn released the following statement:
"Seven years after the murder of PFC Winchell, the military has done little to protect its troops from another Justin Fisher. By the Pentagon's own admission, anti-gay harassment is rampant throughout the forces, yet Pentagon leaders have barely lifted a finger to curb attacks on its own troops. The Department of Defense's anti-harassment plan has not been implemented, its leaders have not been properly trained on dealing with harassment, and its service members are left vulnerable to unchecked homophobia. If military leaders do not take action to properly deal with harassment in the ranks, it is only a matter of time before another anti-gay hate crime occurs on their watch."
Winchell's parents Patricia and Wally Kutteles also reacted to the news:
"Army leaders gave Justin Fisher a shockingly lenient sentence in the first place, but just as importantly, they have also failed, every day since, to protect other soldiers from Barry's fate. As a mother, I never want to see Barry's story repeated. As an American, I am outraged that our leaders have taken no action to make sure it never happens again. The most important step in curbing harassment is ending 'Don't Ask, Don't Tell,' and sending a strong message that second-class citizenship is not tolerated in a first class military. But, until that happens, Pentagon leaders must, at the very least, step up to the plate and take real steps to protect our troops."