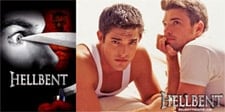 So this Halloween I've agreed to help judge a contest being put together by our friends over at CampBlood, a site that focuses on all things queer in horror cinema.
Here are the details: Take a picture of yourself as a murder victim — the bloodier, the better. For those of you with "victim issues" we'll also accept photos of vampires, demons, crazed killers, and pretty much anything else — as long as it's creative, of course.
Email your photos to contest@campblood.org before noon on October 24th. The winner will receive a Hellbent Halloween survival kit which includes a Hellbent DVD signed by director Paul Etheredge, popcorn, a few Halloween novelties and a few surprise tricks and treats.
Remember, it's Halloween, so have fun, and don't be afraid to be politically incorrect.
ALSO,
There are a couple of other contests going on around the blogosphere that I've been meaning to tell you about.
The first is the 1st Annual Gay Bloggies being thrown by our friends over at Queerclick (which is an excellent NSFW page-turner if you've never visited). They're giving out a couple dozen awards in a variety of categories.
The second is the GLBT Verve Weblog Awards handing out prizes in all kinds of categories.
I encourage you to practice for the upcoming November elections and get out and vote for your favorites, and of course I'd be mighty flattered if that favorite happened to be Towleroad.