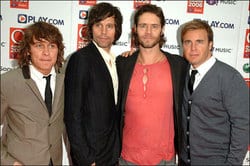 File this one in the "that's so gay" files. British tabloid The Sun reports that re-formed boyband Take That have come under criticism after a back-and-forth exchange during a Radio 1 interview, in which band members Howard Donald and Jason Orange branded certain winter sports a bit too "gay" for their liking:
"DJ Jo Whiley asked the foursome…what they did in their spare time, and Jason said: 'I go skiing in my spare time. Snowboarding is a bit gay isn't it?' To which Howard replied: 'No way, I think skiing is gay. They wear salopettes, those all-in-one suits are definitely gay.'"
The comments raised a flag for Whiley, who apologized to the show's audience after the interview: "If there was anything that you may have found offensive I do apologise. I don't think the guys meant it to be offensive, they were just joking around."
Isn't a boyband member branding something "a bit gay" like the pot calling the kettle black?
Below, the band's first video for "Do What you Want". A bit gay, don't you think?
Meanwhile, another boyband doesn't mind being a bit gay themselves.
Take That in 'gay' shocker [the sun]
Related…
ESPN Announcer Brian Kinchen Taken Off Air for "Gay" Comment [tr]