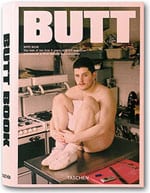 Taschen has just put out Butt Book: Best of Butt Magazine
which compiles favorite articles and photo spreads from the imaginative and sexy Dutch journal. Butt magazine is pretty difficult to find outside of major cities (and not cheap either) so this book is a welcome addition, especially for those who missed the early issues.
According to publisher Taschen, the book offers "sexy pictures of, and candid interviews with: Asianpunkboy, Bruce Benderson, Peter Berlin, AA Bronson, Christopher Ciccone, Martin Degville, Tommy Deluca, Ed Droste, Al Eingang, Thomas Engel Hart, Marc Jacobs, Heinz Peter Knes, Marcelo Krasilcic, Bruce LaBruce, Inez van Lamsweerde, Lutz, Ryan McGinley, Alasdair McLellan, Matmos, Walter Pfeiffer, Terry Richardson, Paul Rutherford, Gus van Sant, Jeremy Scott, Jake Shears, Casey Spooner, Michael Stipe, Jonsi Thor Birgisson, Wolfgang Tillmans, Viktor & Rolf, Dominic Vine, Matthias Vriens, Rufus Wainwright, John Waters, Edmund White, Bernhard Willhelm, and Jonny Wooster."
If you're looking for something with both raunchy and literary appeal, this is a fun publication. The BUTT publishers also more recently started publishing Fantastic Man, a 'style and menswear' journal.