The Library of Congress and Frank Kameny are being targeted (link to the AFT site) by Peter LaBarbera's wingnut organization Americans for Truth, after the LOC accepted more than 70,000 artifacts and papers from the pioneering gay activist. Among many other things, Kameny helped organize the first gay rights protest in front of the White House in 1965 and founded the Mattachine Society, one of the nation's first gay rights groups.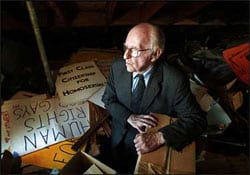 Kameny, a World War II vet, was fired from his job with the U.S. Government in 1957 for being gay. Upon having his papers accepted, he said: "Nearly fifty years ago, the United States Government banned me from employment in public service because I am a homosexual. This archive is not simply my story; it also shows how gay and lesbian Americans have joined the American mainstream story of expanded civil liberties in the 20th century. Today, by accepting these papers, the nation preserves not only our history but marks how far gay and lesbian Americans have traveled on the road to civil equality."
AFT has launched a campaign to the Library of Congress and the Smithsonian in order to dishonor Kameny's legacy. If you'd like to send a letter in support of Kameny, the info is after the jump…
Library of Congress
Dr. James H. Billington, Librarian of Congress
LM-608
101 Independence Ave, SE
Washington, DC 20540
phone – (202) 707-5205
fax – (202) 707-1714
Contact via e-mail
Smithsonian National Museum of American History
Brent Glass, Director and
Richard Darman, Board Chairman
phone – (202) 633-3129
Contact via e-mail.