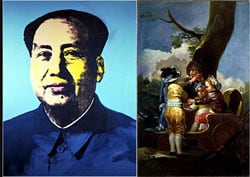 An auction of contemporary art at Christie's set records yesterday with 64 individual works going for a whopping total of $239.7 million.
Among the standouts were three Andy Warhols (a Mao, an Orange Marilyn, and a Sixteen Jackies) each going for over $14 million. The International Herald Tribune notes: "Together, the three prices underline the dramatic expansion of the market for "historical contemporary," as works consecrated by the passage of time and the lasting fame surrounding their name may be characterized."
Other records were a 1968 Robert Mangold sculpture which went for nine times his previous record price, a Willem de Kooning which went for $27.12 million, and an Eric Fischl which broke a record for his work at$1.92 million.
Private transactions are also reflecting the trend. Recently it was reported that David Geffen sold a Jackson Pollock to financier David Martinez for $140 million, which would be the highest price ever paid for a painting. However, since the NYT's original report, others have said the sale took place but not to Martinez. In any case, the Pollock and Ronald Lauder's $135 million Gustav Klimt still went for a hell of a lot of cash. Oh for a bit of pocket change.
Those with limited wallet funds can get in on the action too, in London. At the end of the month the Royal College of Art will be selling hundreds of postcards by "famous and obscure" artists for 52 Euros each. Among them will be works by Damien Hirst and Tracey Emin. Buyers are limited to four postcards each.
Art lovers and Goya fans in particular will find themselves wanting when an exhibit at the Guggenheim which was supposed to feature the Spanish artist's "Children with a Cart" (above right)opens on Friday. The "children" were carted off by thieves when the truck transporting the painting was left unguarded at a rest stop or restaurant near Scranton, Pennsylvania. A $50,000 reward is being offered for the painting's recovery.