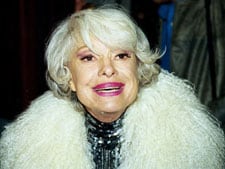 Comments by 85-year-old Carol Channing sent ripples through the Hello Dolly-loving subset of the gay community over the weekend after a new interview was published that revealed she may not be as gay-friendly as she is perceived.
In an interview (which she did not at first realize was with a gay publication) with the Gay People's Chronicle, the elderly Broadway chanteuse spoke candidly about her relationship with her gay fanbase:
"I don't think about them. I'm grateful that they seem to like me. They're terribly loyal to me. But I'm knee-deep in the Bible and you know what it says about that."
After she realized she was talking to a gay publication, she was asked what she thought about the battle for gay rights.
Said Channing: "I don't think about it. If they can't take care of their own problems, why should I bother. It's not my problem."
You Know What the Bible Says [gay people's chronicle]