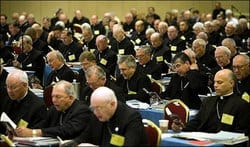 U.S. Catholic Bishops adopted new guidelines at a conference on Tuesday which say that those with homosexual inclinations are not committing a sin, but that those people shouldn't tell anyone other than close friends and family, and should certainly not act on them.
In other words, stay in the closet and don't have sex.
The new guidelines also make clear the understanding that homosexuality is not a choice. They welcome gays and lesbians into the church but refuse them Communion should they act on their urges.
Said Bishop Arthur Serratelli: "Because homosexual acts cannot fulfill the natural end of human sexuality they are never morally acceptable. Such act furthermore do not lead to true human happiness."
The Catholic Church is still as backwards as ever.