Ultra-orthodox Jewish groups, who have been rioting for weeks in Jerusalem over a planned gay pride parade set for Friday in the city, have come to an agreement with the gay group Open House and the city's police about the event's location. It will now be held in the stadium of Jerusalem's Hebrew University. Threats of cancellation and postponement have been ongoing.
It's an event that has inspired violence in the past from Haredi Jews, one of whom stabbed a participant at an event held in July 2005. Earlier this year, pamphlets were posted in Meah Sha'arim, an ultra-orthodox Haredi neighborhood in Jerusalem, offering NIS 20,000 to "anyone who brings about the death of one of the residents of Sodom and Gomorrah."
Baruch Marzel, a right-wing petitioner against the event, told a radio station, "The stabbing incident during last year's parade will seem minor in comparison with what is anticipated this year. We have to declare a holy war."
One anti-gay activist from Brooklyn, Rabbi Yehuda Levin, told the Boston Globe that the common hate is so strong it can unite Jews and Muslims: "Only this onslaught of homosexual radicalism could bring together such disparate voices."
Even with the new stadium location, security will remain high: "Police announced on Thursday that they will secure the event will 3,000 officers, instead of the 10,000 that was originally allocated. Police also said that the current high alert will remain in place throughout the weekend due to a significant number of terror warnings."
Have no fear, Jerusalem's gay pride will survive.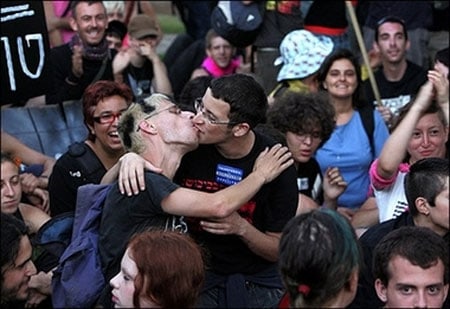 You may have missed…
Israel Won't Ban Jerusalem Gay Pride Parade; Rioting Continues [tr]
Riots, Protests Against Gay Pride Parade Intensify in Jerusalem [tr]
Ultra-Orthodox Haredi Jews: Gays Caused War in Lebanon [tr]
Jerusalem Police Now Say "No" to Gay Parade [tr]
Jerusalem WorldPride: Flyers Offer Prize for Killing Gays [tr]
Stabbings at Jerusalem Pride [tr]