Dana Olmert, the lesbian daughter of Israeli Prime Minister Ehud Olmert, talked to Army Radio about her experience at the Gay Pride Event in Jerusalem on Friday, an event that had been scheduled as a parade around the city but was moved within the confines of the stadium at Hebrew University because of threats of violence.

Said Olmert: "I thought it is important to tell those who were not there what those who were there felt. I was happy to be there with the sweetest people there is. But on the other hand there is a sad feeling in that they took us into a closed area. It was a feeling of being in jail. At the entrance we were asked to put on a pink ribbon and the feeling was that the event is too sterile. After what happened I am sure the community's leader should not give up and therefore we have to march. The fear campaign is a problem. The fact that we were distanced from the public teaches us that something in the separation war succeeded, and that's what turned the event into a bitter victory. I think that the community was offended in this struggle but there is another side to that. Now, homosexual and lesbian haredim, and there are haredi homosexuals and lesbian, know they are not alone in the world."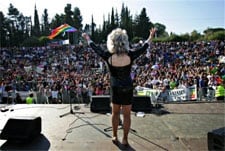 The Haredi Jews are the most vocal and violent in their objection to homosexuality and rioted for weeks in the streets of Jerusalem before Friday's event. Olmert added that she believes 'balanced' coverage of Haredi vs. LGBT perspectives in the media is wrong and facilitates violence against gays:
"There is on the one hand a group of people who want to march without violence, and their message is not one of hate. And on the other hand there is a group of people who express themselves violently – and the media presents both sides in a politically correct manner. I believe the media should take a stance."
Olmert refused to speak for her father, who has been silent on the issue.