Golan Cipel, the former aide to former New Jersey Governor James McGreevey gave his first television interview today to Jim Rosenfield of WCBS in New York.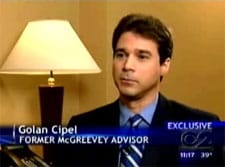 In the interview Cipel leads Rosenfield up the staircase of the two-bedroom condo in Woodbridge, NJ where he claims McGreevey began allegedly "sexually harassing" him, then pauses and tears up:
Cipel: "I feel like this is the spot where my life ended, the way I planned it to be, the way I believed it to be and it's never going to be the same. (sigh) When you plan a life, everybody has dreams. You think you know, most people are good and you don't think bad things can happen to you. And to think of so many months and years I think about this moment and I think how do you let it happen? How did this guy manage to fool you and fool everybody else?"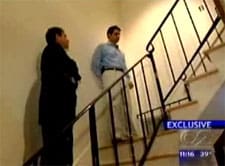 Cipel claims McGreevey cornered him in the bedroom of the condo against his will: "And I just remember holding back here and saying what's going on. Again he pushed me on the chest back into the bedroom. I was in shock and I fell. And there was just this crazy look in his eyes. Didn't care. Tried to struggle with me. Tried to kiss me. I just remember holding my head and saying, 'No. Stop.' Fighting with him. And I moved to the other side of the bed here. And he was there where you stand. And I wanted to get out. But he's close to the door. I just remember wanting to ask him so many questions, but wanting to leave as fast as possible. And he said don't ever repeat this to anybody. Then I asked him, 'Why did you think I was gay?' And he said, 'Everybody's a little bit gay.'"
Cipel says he has no proof of what occurred in the bedroom, claims that he and McGreevey never actually had sex, and says he decided to file a sexual harassment suit against the Governor but changed his mind after the Governor resigned. McGreevey claims that Cipel demanded $50 million for his silence, but the demands went away when it was apparent Cipel had no proof.
Honestly, I have to say I don't believe either one of them.
You may have missed…
McGreevey/Cipel Affair Turns into "He Said, He Said" [tr]
James McGreevey's Confession a Steamy Read [tr]