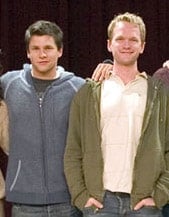 A publicist for actor Neil Patrick Harris has issued a statement following a report on Canada.com that Harris had helped his "longtime sweetheart" David Burtka land a role on the TV sitcom How I Met Your Mother. Here's the item that sent publicist pens aflutter:
"Nepotism is alive and well in Hollywood. Former Doogie Howser star Neil Patrick Harris, 33, recently got his longtime sweetheart David Burtka, 31, a guest role on his series How I Met Your Mother (airing Wednesday nights on CH). Burtka is an experienced theatre actor (he played opposite Bernadette Peters in Gypsy on Broadway and starred in the touring company of Beauty and the Beast) but also had small parts on episodes of The West Wing and Crossing Jordan."
The publicist reportedly claims of Harris: "He's not of that persuasion."
Pictured are David Burtka and Neil Patrick Harris from a cast photo of a benefit performance of The Business done at the Ojai Playwrights Conference.