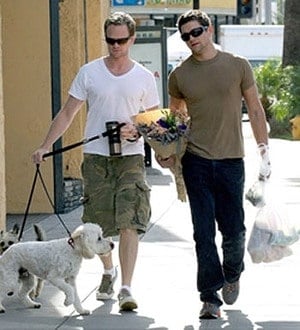 Recently out Neil Patrick Harris and his partner David Burtka are snapped taking a Sunday stroll in L.A.
Reuters takes on the issue of 'outing' celebrities and notes that "up until relatively recently, agents and publicists could be counted on to keep clients closeted if they so chose. That just isn't feasible anymore in a culture where a celebrity's personal life is just another stage for mandatory performance."
Also questioned is the age-old question of how coming out will affect an actor's career: "Neither Harris nor [T.R.] Knight are in the mold of the traditional leading man, and that's a huge distinction. That type of role is predicated on an actor's sex appeal to the opposite gender. Absurd as it sounds, on some level viewers have to believe the object of their affection could somehow reciprocate their attraction."
In a perfect world, it would have no effect. However, a photo above can do wonders for a kid struggling with his sexuality who needs some kind of example. Paparazzi snapshots are often valued by how much they can shock. But here's one instance in which mundanity can have real power.