Film director Robert Altman has died at the age of 81.

FOX News pundit: Happy Feet just an animated Inconvenient Truth. "I saw this with my two little boys. What I found offensive — I don't care what your stands are on the environment — is that they shove this in a kid's movie. So you hear the penguins are starving and they're starving because of mean old men, mean old companies, arctic fishing, a big taboo…I half expected to see an animated version of Al Gore to pop-up."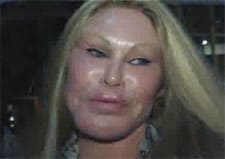 Puff pastry: Jocelyn "Cat Woman" Wildenstein dines out at Mr. Chow.

New Lifetime show makes woman choose whether a man is Gay, Straight, or Taken: "After interacting with each man in group and one-on-one settings, the woman must determine who is the single straight guy among the three. If she chooses correctly, she wins an exotic trip for two with him. If she chooses wrong, the man she selects wins the trip with his significant other."

Little Britain picks up International Emmy Award.


Ryan Thoreson, co-chair of the Harvard Bisexual, Gay, Lesbian, Transgender and Supporter Alliance, chosen as 2007 Rhodes Scholar.

The History Boys opens today in limited release. AfterElton talks to director Nicholas Hytner about the machinations of sexuality at a prep school.

Britney Spears finds new friends in Paris Hilton, Mario Lopez.

Gay magazines suffer ad erosion, made more noticeable by subscription growth: "The mags' troubles stand out in a gay ad market that is generally booming, according to the most recent Gay Market Press Report, an annual report produced by Prime Access, an ad firm, and Rivendell Media Co. The latest report, released this May, had total advertising in gay media reaching $212 million. However, much of this budget goes to local gay publications including newspapers covering culture, leisure, and politics in specific cities or regions."