These violent and warlike scenes are all because of the gay pride parade planned in Jerusalem next week. Ultra-orthodox Haredi Jews rioted for a second night, setting fires and throwing stones, according to Ynet News:
"Dozens of Haredim demonstrated against the parade on Wednesday night in Jerusalem. The protestors hurled rocks at police forces, injuring three policemen. Eight protestors were detained for questioning. Two additional protestors were arrested after they assaulted a taxi driver."
The night before, a similar scene took place, with protestors insisting that Jerusalem would become another Sodom and Gomorrah should the pride festival take place.
The opposition took it upon themselves to fight back as well, breaking windows of a synagogue and desecrating the exterior with graffiti that read: ""If we don't march in Jerusalem – you won't walk in Tel Aviv."
One gay member of the Tel Aviv suggested that the vandalism could be a set-up by the Haredim to make the gay community look as violent as they are. Said Itay Pinkas: "This is malicious vandalism and may even be a provocation aimed at muddying the community's name. The community's struggle has always promoted the values of tolerance, understanding and consideration for others, and acts of violence and vandalism such as this have never been and would never become a tool in the just struggle for full civil equality."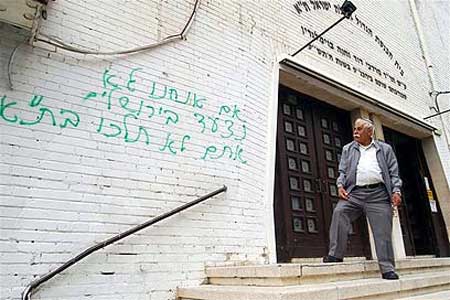 You may have missed…
Ultra-Orthodox Haredi Jews: Gays Caused War in Lebanon [tr]
Jerusalem Police Now Say "No" to Gay Parade [tr]
Jerusalem WorldPride: Flyers Offer Prize for Killing Gays [tr]
Stabbings at Jerusalem Pride [tr]