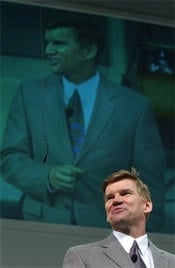 Ted Haggard was fired as pastor of the Colorado Springs-based New Life Church over the weekend by an independent overseer board that determined him unfit to retain his position. Said the board, which was made up of clergy from other churches: "Our investigation and Pastor Haggard's public statements have proven without a doubt that he has committed sexually immoral conduct."
Haggard also sent a letter to his congregation which was read aloud to them on Saturday apologizing for the "disappointment, betrayal, and hurt" that he had caused.
"I alone am responsible for the confusion caused by my inconsistent statements. The fact is, I am guilty of sexual immorality, and I take responsibility for the entire problem," Haggard told them.
He added: "I am a deceiver and a liar. There is a part of my life that is so repulsive and dark that I've been warring against it all of my adult life."
The full text of Haggard's letter can be read here. His wife Gayle wrote a letter as well.
Haggard says he will submit to the oversight of Dr. James Dobson, Pastor Jack Hayford, and Pastor Tommy Barnett (after which I'm sure we will have anointed a flaming new leader for the "ex-gay" movement).
The video above is a clip of Richard Dawkins, a leader in evolutionary biology, questioning Pastor Ted.
You may have missed…
Ted Haggard: Bought Meth, Didn't Use It; Received Massage, No Sex [tr]
Mike Jones Fails Lie Detector Test on Ted Haggard But Test Administrator Doubts Test's Accuracy [tr]
Ted Haggard Voicemails Analyzed; Pastor Admits to Indiscretions [tr]
Evangelical Leader Ted Haggard Steps Down After Gay Escort Claims They Had a Sexual Relationship for Three Years [tr]