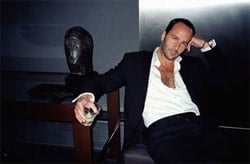 At least that's what he's telling people, according to Page Six:
"I always go commando; I never wear underwear. Want to see? I'll prove it to you. I'm famous for not wearing underwear. My mother keeps saying, 'Please stop telling people you don't wear underwear.'"
And don't accuse Ford of wearing colored socks either.
Previously
What Drives a Ford [tr]
Tom Ford and the Fashion Bots [tr]