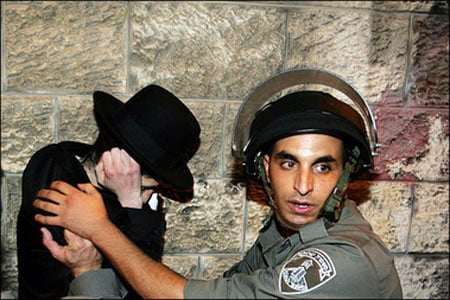 Israel's attorney general Meni Mazuz refused to ban a gay pride parade that is scheduled for this coming Friday in Jerusalem. Instead, he instructed gay activists to meet with police today and come up with an alternative plan for the march.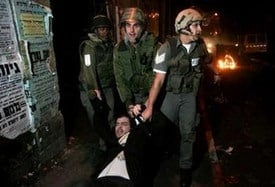 Ultra-orthodox Jews continued to riot in protest over the weekend as they have every single night over the past week, lighting fires in the street, throwing stones, and vandalizing property.
Gay pride planners said they were open to changing the route of the parade so that it did not run through Jerusalem's city center, thus lessening the potential for protest and violence. Police were not sure if this would have any impact on reactions from the Jewish ultra-orthodox Haredim.
One suggestion for compromise came from Sa'ar Netanel, a Meretz-affiliated Jerusalem city council member, and councilor Itay Pinkas, the Tel Aviv mayor's advisor on the gay community. They offered to cancel the parade entirely if the ultra-orthodox Jews would not object to same-sex marriage laws come up for government discussion:
"This is not the last time that the subject will come up. They won't get rid of us so quickly. If they cooperate with us, we'll also be open to the things that they need. All they have to do when the civil marriage law comes up for discussion in the Knesset [is say], 'We're not there, this doesn't affect us. We are allowing this to pass."
My first impression is that this would be a non-starter for the zealots.
You may have missed…
Riots, Protests Against Gay Pride Parade Intensify in Jerusalem [tr]
Ultra-Orthodox Haredi Jews: Gays Caused War in Lebanon [tr]
Jerusalem Police Now Say "No" to Gay Parade [tr]
Jerusalem WorldPride: Flyers Offer Prize for Killing Gays [tr]
Stabbings at Jerusalem Pride [tr]