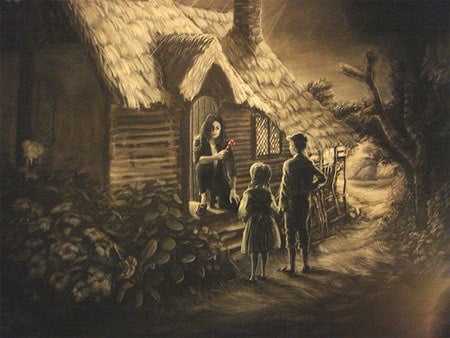 Santa's Ghetto is a "squat art concept store" which began five years ago and opens in a different location each holiday season. It features 20 underground artists under the wing of pop art graffiti prankster Banksy. The keyword at this exhibition is "affordable", however, that does not apply to Banksy himself, whose work is surging in popularity. Banksy exhibited four works at Santa's Ghetto which were reportedly purchased within ten minutes of the show's opening. One of the works, which features Michael Jackson luring an unsuspecting Hansel and Gretel to his gingerbread house with a candy cane, reportedly went for £100,000.
Other works on display include "Downing Street" by Peter Kennard which features Tony Blair snapping photos of a Mideast explosion on his cameraphone.
The Daily Mail has a few more details on what's in store: "Other artworks include two portraits of Mona Lisa by Nick Walker, in which Leonardo Da Vinci's iconic subject is mocked up as Marge Simpson and with her rear exposed, and Emma Heron's 'vendalimb' machine which has a black child with a leg blown off gazing into it. Also up for sale is a Tube map in which every station is named Error, a teddy bear stabbed with a kitchen knife and a picture of Saddam Hussein in an American military uniform."
Banksy quipped of the show: "I felt the spirit of Christmas was being lost. It was becoming increasingly uncommercialised and more and more."
This year's exhibition is on Oxford Street adjacent to the Tottenham Court Tube station until Christmas. Check out this video piece on CNN.
You can also visit the exhibition online by checking out this flickr set by Doc18.
Banksy's 'Christmas Ghetto' art store open for business [daily mail]
Banksy takes aim at Jackson with 'Hansel and Gretel' art [times online]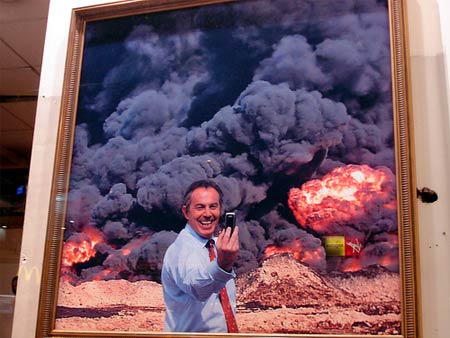 Tony Blair photo by Su-Lin [flickr]
You may have missed…
Banksy and Warhol: They're a Steal [tr]
Bidding Frenzy for Banksy Warhol Fakes of Kate Moss [tr]
Banksy Addresses the Elephant in the Room [tr]
Paris Hilton "Screwed" by Graffiti Artist Banksy [tr]