Just a week after Palm Springs Mayor Ron Oden shot down a subcommittee that had hoped to brand California desert town Palm Springs a "Hate-free community", a gay couple who moved to the town only a month ago experienced some hate first-hand.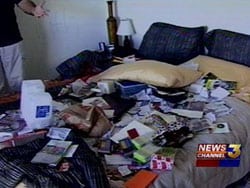 On Tuesday, James Perre's and Dan Desiato's Palm Springs apartment was trashed by burglars who tore apart personal items, scrawled threatening anti-gay phrases on the wall, and made away with about $9,000 worth of possessions.
The couple told NewsChannel 3: "Our life meant nothing to someone. It's the only thing we have. For hatred. It's apparent from the graffiti, it's apparent from the personal items that are torn up. We hate you because you're not like us. We sold everything when we moved from the East Coast to move to Palm Springs and they've ruined everything that was of value to us. Someone basically, once again, says we're worth nothing because it goes against what they believe. And we have to suffer with memories gone and thing that can't be replaced."
Police are offering a $1,000 reward to anyone with information on the criminals.