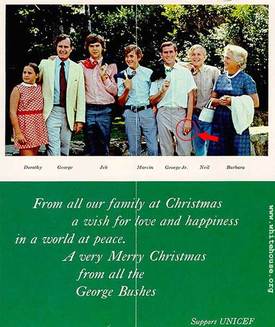 Are we already planning to enshrine #43?
It seems that faculty, administrators, and staff at SMU's Perkins School of Theology are not too happy that the school is one of the frontrunners for the site of the George W. Bush presidential library.
Now why on earth would they object to hosting such a dignified institution?
"We count ourselves among those who would regret to see SMU enshrine attitudes and actions widely deemed as ethically egregious: degradation of habeas corpus, outright denial of global warming, flagrant disregard for international treaties, alienation of long-term U.S. allies, environmental predation, shameful disrespect for gay persons and their rights, a pre-emptive war based on false and misleading premises, and a host of other erosions of respect for the global human community and for this good Earth on which our flourishing depends….[T]hese violations are antithetical to the teaching, scholarship, and ethical thinking that best represents Southern Methodist University." (via raw story)
Can't say I argue with that.
The photo here is a Bush family Xmas card from the 70's. An analysis of that at Wonkette.
You may have missed…
SMU Quarterback Justin Willis Suspended for Possible Hate Crime [tr]