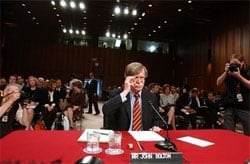 George Bush's appointment for ambassador to the United Nations, John Bolton, will resign within weeks according to the White House. Bolton was never able to win Senate confirmation after his nomination was blocked by Democrats and a few Republicans. The unpopular Bolton was nominated by Bush while the Senate was in recess, and he was booed shortly thereafter on the sidewalk outside the U.S. Mission.
Check out this clip of Bolton's meltdown. What a diplomat.
Iowa moderate Jim Leach is reportedly being pushed as Bolton's replacement.
BREAKING: John Bolton To Resign [think progress]
White House finally accepts defeat on John Bolton [americablog]
John Bolton to Return to His First Love, Hanging Around High Schools During Cheerleader Practice [wonkette]