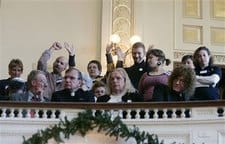 As supporters and opponents watched from the gallery, New Jersey lawmakers moved swiftly to satisfy an October ruling from the state's highest court and today gave final approval to the legalization of civil unions for same-sex couples, affording them all the rights of marriage except for the name.
Several legislators on both sides of the aisle recently complained that the bill had moved too quickly, without enough debate.
The bill passed New Jersey's Assembly by a vote of 56-19, and the Senate by a vote of 23-12.
The bill now heads to Governor Jon Corzine, who has indicated he will sign it.