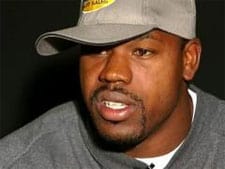 One week after Pittsburgh linebacker Joey Porter called Cleveland tight end Kellen Winslow, Jr. a "fag" in comments to media outlets following a game, the NFL has hit Porter with a $10,000 fine.
Porter "apologized" on Tuesday saying he didn't mean to offend anyone — except Winslow: "You know, that was probably a poor choice of words. So if I offended anybody, I apologize for that…I don't know … I guess because how we used that word freely, me growing up using that word, I didn't think anything of it. Like I said, I apologize to anyone I may have offended. I didn't mean to offend anybody but Kellen Winslow."
It's the second fine this year for Porter. He was fined $15,000 earlier in the season for running at the mouth about an official during a game.
you may have missed…
Pittsburgh Steeler Joey Porter Calls Opponent a Fag [tr]
Joey Porter Issues "Apology" for "Fag" Slur [tr]