Little Britain's Matt Lucas got legally hitched to his partner Kevin McGee over the weekend in a civil partnership ceremony in central London, followed by a reception at The Banqueting House.
The photo above shows Lucas and McGee just after the ceremony and following at a pantomime-themed reception.
It must be the season for fashion faux-pas. Last week it was red dresses at the White House. This week it was Captain Hook costumes at London's most high-profile celebrity wedding reception: "Sir Elton John, Queen's Roger Taylor, Paul O'Grady, Neil Tennant from the Pet Shop Boys and hypnotist Paul McKenna all arrived to celebrate his civil partnership dressed as the villainous pirate."
Below: O'Grady, McKenna, Tennant, John. I've a feeling nobody went home to change outfits, but perhaps they clawed each other's eyes out with the multitude of hooks.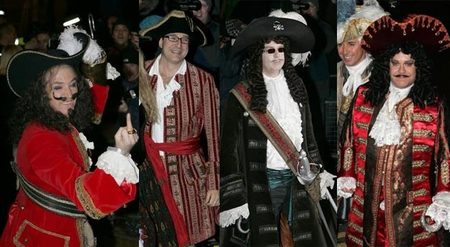 A few more guest shots after the jump…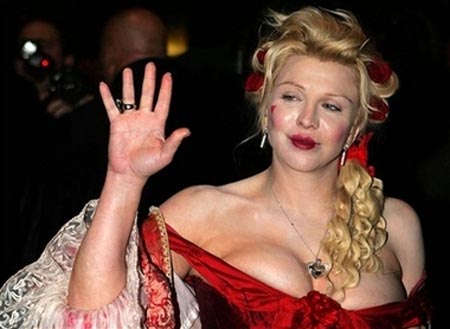 Courtney Love came as the Queen of Hearts.
Former Boyzone singer Stephen Gately and his partner Andy Cowles (who had their own civil partnership last March, with X Factor host Louis Walsh. Right, singer Will Young as an Ugly Sister.
You may have missed…
Vicky Pollard's Mum to Make Little Britain Debut [tr]