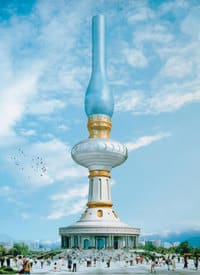 Scheduled for completion by the 2008 Beijing Olympics, a gigantic tower shaped like an oil lamp will soon be the centerpiece of China's "lighting capital" Guzhen. They wanted a monument that would be as fitting a symbol for their city as the Eiffel Tower is to Paris:
"…the $38 million Century Giant Lamp Tower will stretch 430,560 square feet over 48 floors, with an immense glass chimney on which an array of images will be projected at night from inside. With an observation deck at its crown, the building has a base that will contain shops, restaurants, and a museum to document 'humanity's quest for light against darkness.'"
It's also the only building that, when rubbed, releases a colossal replica of Barbara Eden.
The Century Giant Lamp Tower [bldg blog]