iPhone (if they'll call it that) approaches: is Apple on the verge of another revolution?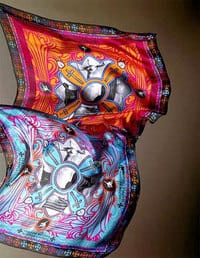 Dead artists getting new life in fashion. Jewelry and leather goods designer Chrome Hearts is planning new line based on works by Robert Mapplethorpe: ""We have been very conservative about licensing, limiting it to paper products like calendars and note cards, and not many of them. Robert on the other hand was very enthusiastic about licensing products. One reason he hired me is that I was Salvador Dalí's lawyer, someone who had the licensing empire of the world."

NYT: Is anti-gay mockery making a comeback on the American stage?

Plan for gay condo complex draws controversy in Boston: "Boosters of gay condo developments say they have no plans to heap on straights the kind of discrimation they've suffered over the years. But it's unclear how welcoming heterosexual singles and couples would find these communities. 'What if I was saying this building is just for heterosexual people, or Muslims, or Jews or Catholics. What's the difference?,' asked Michael Carucci, head of ERA Boston Real Estate Group. 'To take it the next step and say this building is just for gay people – it's a bit much.'"

George Michael planning first U.S. tour in 15 years.

Two Minogues for the price of one.

San Francisco Mayor Gavin Newsom's openly gay chief of staff resigned on Friday to spend more time with his partner Dan Henkle and their children. Newsom "married" Kawa and Henkle during what is now called SF's "Winter of Love" in February 2004 after Newsom decided to issue marriage licenses in the spirit of ending discrimination there.

Who wants to live in Fucking Austria? (via AmericaBlog)

Matt Damon on Hardball tonight on who should go to war: "I don't think that it's fair, as I said before, that it seems like we have a fighting class in our country. That's comprised of people who have to go for either financial reasons or…I don't think that that is fair. And if you're gonna send people to war, ahh, if, if we all get together and decide we need to go to war then that needs to be shared by everybody. You know and if the President has daughters who are of age then maybe they should go too…"