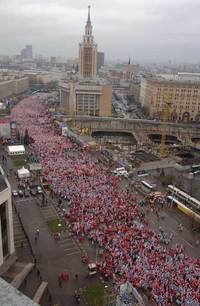 Thousands of Santas demonstrated on the streets of Moscow last weekend but were not necessarily demonstrating holiday spirit.
The participants were actually not dressed as Santa, but as Grandfather Frost and the Snow Maiden, Russian equivalents of Santa Claus.
They are members of the Russian pro-Kremlin youth group Nashi (more on that here), and there is debate about whether the group represents a benevolent or sinister force in Russia. Nonetheless, as The Age notes, the movement is reminiscent of the Soviet era:
"As the youngsters swayed to the 'patriotic karaoke' emanating from the stage, a voice boomed out from the loudspeakers exhorting them to reinvent Russia's lost glory. 'Let the miracle happen,' the voice cried out. 'Let heart reach out to heart so our country can rise once more.'"
Nashi's aim is supposedly anti-fascist, but some wonder: "The movement's rhetoric is profoundly anti-Western and Nashi apes many elements of the Komsomol, the Communist Party's youth league. Ostensibly, Nashi's main political aim is to fight fascism but liberals call it 'Nashisti', a play on the Russian 'fascisti'."
Quite a contrast to the recent gathering of Santas in Boston.