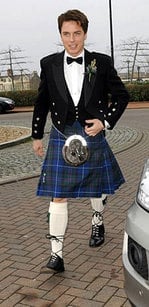 Scottish-American actor John Barrowman tied the knot with Scott Gill, his partner of 16 years, in a civil partnership ceremony yesterday St David's Hotel and Spa in Cardiff Bay, Wales. Approximately forty friends and family witnessed the event, according to reports.
Barrowman stars as Captain Jack Harkness in the BBC Doctor Who spin-off Torchwood.
There was no comment from the couple, but Barrowman has commented previously on his intention to have his relationship legally recognized: "Our relationship was legitimate for us a long time ago. We have been spending most of our time together. The ceremony is because we have the right to be recognised as a couple. It forces people who don't want to recognise same-sex relationships as legitimate, it forces them to do so."
Barrowman wore a kilt to the ceremony in honor of his Scottish roots. Although raised in Joliet, Illinois, he was born in Glasgow.
Best wishes to the happy couple.