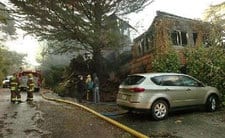 A fire broke out at Manka's Inverness Lodge in Marin County early Wednesday after a tree fell on the structure. The local fire chief called it a total loss.
Jake Gyllenhaal and sister Maggie were staying at the inn for Christmas. Guests were seen running outside at around 2:43 am. Said a neighbor: "They weren't dressed to come out. It was early."
Daniel DeLong, chef and co-owner, said Gyllenhaal assisted with recovery efforts: "Jake was helping me pull things out of the fire."
Other well-known guests at the inn were Frances McDormand and husband Joel Coen. No injuries were reported.