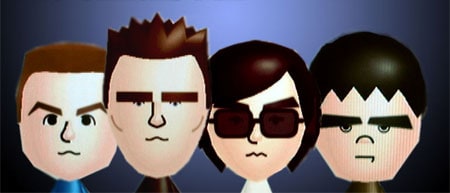 Following yesterday's request for gay newsmaker celebrity Miis, Towleroad correspondent Robert C. pointed us to this Morrissey fansite, featuring the former Brit band in all their pixelated glory.
Andy Rourke, Morrissey, Johnny Marr, Mike Joyce. Not sure I would get it right off the bat, but it's a good try.
Incidentally, Morrissey was recently voted Britain's third greatest living icon in a poll taken by BBC's The Culture Show.
Only Sir David Attenborough and ex-Beatle Sir Paul McCartney scored higher: "He beat seven others on the shortlist including singer David Bowie, actor Sir Michael Caine, actor and comedian Stephen Fry and model Kate Moss."