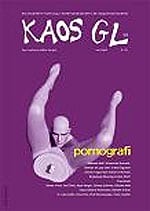 Umut Guner, the editor and owner of Turkey's only LGBT magazine, Kaos GL, has been charged under a Turkish Penal Code which prohibits the publication of obscene images and may face three years in prison:
"Turkish Penal Code, Article 226, Part 2 says: "A person who broadcasts or publishes obscene images, printed or audio material or who acts as an intermediary for this purpose shall be sentenced to imprisonment for a term of six months to three years. (It is crucial to remind that one of Kaos GL's requests during the Penal Code review in 2005 was amending the "obscenity" article in the Turkish Penal Code by clearly defining what constitutes 'obscenity'.)"
Issue #28 "examined pornography, and contributors to the issue are considered experts in their fields," according to a post on the magazine's blog.
An appeal to the Turkish Supreme Court by the magazine's editor was turned down and no further appeals will be allowed, so he's turning to the European Court of Human Rights.