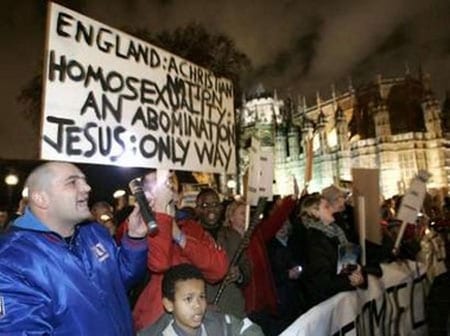 Approximately 1,000 demonstrators held their anti-gay rally outside Parliament in London last night, hoping to sway a vote in the House of Lords to block the laws, which forbid discrimination based on sexual orientation, and are already in place in Northern Ireland.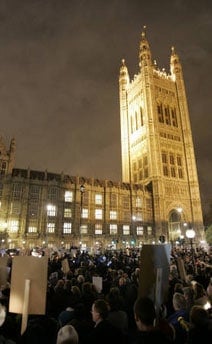 The laws were upheld on Tuesday by a margin of three to one, 199 votes to 68.
A debate lasting nearly two hours was impassioned from both sides, according to the Independent:
Lord Tebbit said: "These regulations would leave perfectly innocent people in fear of legal action from the fanatical wings of the lesbian, homosexual, gay pressure groups. Whatever the intention of those who drafted the regulations, they are bound to create not only a shadow, or umbra of prohibition, but a vastly-wider penumbra of the fear of prosecution."

But Lord Smith, the former Labour culture secretary, launched an impassioned defence of the protections offered by the rules. He attacked critics of the regulations, telling peers: "What they are arguing for is quite simply the right to discriminate and the right to harass. These arguments are being made in the name of Christianity. I find that very difficult to understand. "People have the right to believe that homosexuality is somehow wrong. I believe very strongly that people have a right to hold views that may be bigoted or discriminatory, but I do not believe they have the right to put their beliefs into action."
Anti-gay campaigners say the rules are a threat to their "freedom of conscience" because they would be forced to act despite their religious beliefs.
Thomas Cordrey of the Lawyers' Christian Fellowship, the organizers of the rally, told Reuters: "Christians have no desire to discriminate unjustly on the grounds of sexual orientation, but they cannot and must not be forced to actively condone and promote sexual practices which the Bible teaches are wrong."
He also told the news outlet that the group was not homophobic. However, see the top photo and ask yourself if you agree with him.
The laws, which went into effect in Northern Ireland on the first of the year, are to take effect in England and Wales in April.
Said Andrew Copson, of the British Humanist Association: "[Discrimination] would not be acceptable in the areas of race, disability, age or religion or belief, and is not acceptable here. Either we hold human rights to be universal or we do not."
Lords defeat attempt to overturn gay rights law [independent]
Challenge to gay rights laws fails [reuters]
You may have missed…
Christians, Muslims, Jews to Rally Against Gay Rights Law [tr]