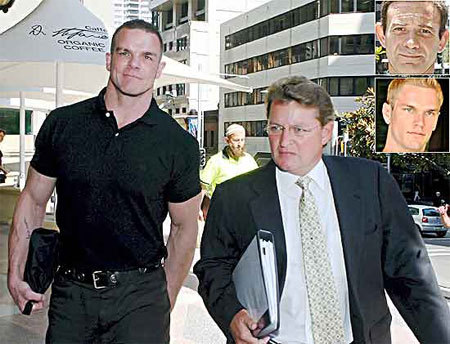 Former rugby icon-turned-actor Ian Roberts appeared in court in Sydney yesterday to dispute assault charges made by former boyfriend, Ben Prideaux.
In the mix of this gay potboiler are a misplaced laptop computer, a sleeping stranger, a best friend who heard a different story, acting showreels, and an angry boyfriend who likes to scratch. It's a "he said, she said" story that Roberts says has been "a thorn in [his] side."
Roberts explained to a Sydney court that his former boyfriend was in hysterics at the time of the alleged assault after finding a stranger in Roberts' bed: "Ben still had not calmed down. It was a no-win situation for me…He was fanatical. He had worked himself up … I tried to calm him down. I said: 'Babe, it's me; it's all good.'"
According to Roberts' best friend, Prideaux called him following the incident and said that "Roberts was just a 'big, cuddly softie' and had not hit him."
The drama resumes, along with the trial, at the end of May.
Ex-league star 'fearful of scratches' [courier-mail]
Big softy Roberts a lover not a fighter, court told [sydney morning herald]
You may have missed…
Ian Roberts Testifies About Murdered Friend [tr]
Gay Rugby Icon Ian Roberts in Superman Returns [tr]