Catholic Bishop in Piedras Negras, Mexico calls recent legislation legalizing same-sex unions in the state of Coahuila "an attack on the institution of marriage."

Two of Saddam Hussein's aides have been hanged in Baghdad.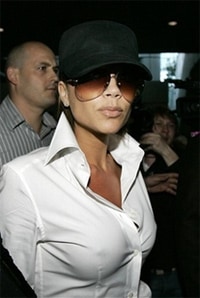 Victoria Beckham and her nipples arrive in L.A., inspiring attention from the locals.

Police officer in Corvallis, Oregon tasers man during traffic violation pick-up: "Rodney Quinn, 49, was pulled over at NW Jackson Avenue and NW 10th Street after committing several traffic violations in his pickup truck, police said. According to police, Quinn crawled out of his pickup window and yelled, 'Are you a homosexual?' and other statements at the officer who pulled him over. Quinn didn't respond to orders from police to stay back and continued to approach the officer, police and witnesses said. Authorities said the officer defended himself by using a Taser gun on Quinn."

Setting Rosie O'Donnell aside for a moment, Donald Trump weighed in over the weekend on a couple of political figures. The New York Daily News reports on some comments he made to Sean Hannity about Secretary of State Condoleezza Rice: "[Americans] want someone that knows how to negotiate, that knows the art of the deal. In all fairness, I see Condoleezza Rice – she goes on a plane, she gets off a plane, she waves, she goes there to meet some dictator. … They talk, she leaves, she waves, the plane takes off. Nothing happens, it's a joke, nothing ever happens. I think she's a very nice woman, but I don't want a nice woman. I want someone that's not necessarily nice." On another note, Trump said of Hillary Clinton: "She is a very capable woman. She has done an amazing job as a senator of New York."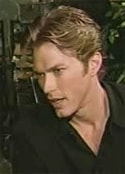 Sex and the City's 'Absolut Hunk' Jason Lewis, who has just started a seven-episode stint as Matthew Rhys' love interest on Brothers & Sisters, tells Extra that having to kiss a man on screen was "scary".

Tim Gunn in, Queer Eye out at Bravo. Gunn: "I'm practically delirious that Bravo has given me this incredible opportunity and together, we vow to redefine 'makeovers.' This series aims to be one-part education and two-parts fun, and you'll see me being a fashion therapist, not a svengali."

Houston considering moving gay pride parade out of gay Montrose neighborhood. Activist Ray Hill: "I mean, there's queer blood on most of these . There's lesbian blood on some of them. … We may not all live here anymore, but this is where we built a community. And we built a community because we cared for one another."

Madonna threatened in high-speed Fifth Avenue car chase.