Attention-grabbing figure skater Johnny Weir told reporters at a press conference in Spokane yesterday that he has heard former skater Mark Lund's recent comments about him were "mean-spirited" but says he'll reserve comment until he's seen the actual tape: "When I have seen it, I'm sure I'll have something to say."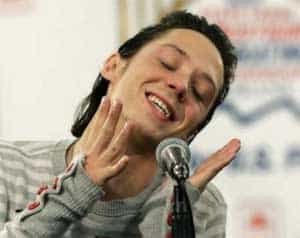 Weir is set to take the ice on Saturday night at the 2007 U.S. Figure Skating Championships with a long program free skate routine set to "Child of Nazareth" by Maxime Rodriguez, in which the flamboyant skater will tell the story of Jesus:
Said Weir: "In no way am I portraying the actual entity of Jesus. I'm just performing the story of his life. It's an interesting concept, an interesting idea to push myself forward and make myself better. It has nothing to do with anything else."
Weir defended his maverick image:
"It's more exciting to walk in a fashion show or portray Jesus than it is to sit at home learning how to play the piano or skating to 'The Nutcracker'…The risks I'm taking are natural to me. I didn't go to BlackBook and say, 'I want to pose in heels.' I said I'd do it because it's fun for me. It wasn't like I went in and said, 'Oh my God, I want heels. I want fur. I want glitter. I want to be made up totally like Amanda Lepore (the self-proclaimed No. 1 transsexual in the world).' … I think the pictures are very interesting. They're not gaudy. They're not campy. They're just me modeling clothes."
Weir's main competition for Saturday's event will be Evan Lysacek. Weir hopes to equal Brian Boitano's achievement of winning four straight national championships. A record 146,311 tickets have been sold for this week's events.
Kudos to Weir for pushing the envelope. We wish him the best of luck.
You may have missed…
Former Skater Mark Lund Responds to Johnny Weir Outburst [tr]
Johnny Weir Hasn't Lost Touch with his Feminine Side [tr]
Johnny Weir: Pin-up Princess [tr]