Remember the controversy a few weeks back about a scientist working to change the sexuality of sheep? Well, it turns out that when PETA began a campaign against the scientist's fairly innocuous reasearch, it began a chain of media coverage that turned out like a bad game of telephone. The scientist wasn't really trying to do that at all. We stand corrected.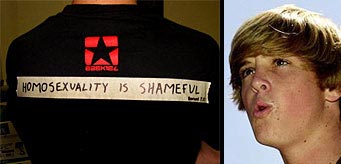 Judge sides with school officials in homophobic high school T-shirt case: "U.S. District Judge John A. Houston ruled that the case became moot when Tyler Chase Harper graduated from Poway High School last year, but agreed to consider the issues as they affected his sister, Kelsie Harper, still a student. Houston then relied on an earlier appeals court decision in the case to find that the school's actions didn't infringe on students' rights of free speech, free exercise of religion, nor were they hostile to a particular religious viewpoint. He cited that decision, which found that schools have a responsibility to stop harassment on the basis of sexual orientation because it 'adversely affects the rights of public high school students.'"

Hypocrite hunt: An Indiana blogger has sent the call out for those with information on closeted Indiana legislators to come forward…

Gay Southern California athlete who came out to his high school wrestling team dies in car crash.

REPORT: AT&T to give away free service for a year and a half to new customers who buy Apple's iPhone.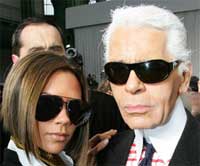 Fashion-bots descend on Paris.

Ryan Reynolds goes for plastic surgery after passing out in the bathroom.

The Web Celeb 25: Forbes lists what it considers the biggest stars of the internet.

Researcher: Earth's moon to disintegrate in 5 billion years. "The Moon will be torn to pieces and every crater, mountain, valley, footprint and flag will be scattered to form a spectacular 23,000-mile-diameter (37,000-kilometer) Saturn-like ring of debris above Earth's equator. The new rings will be short-lived. Theory dictates they'll eventually rain down onto Earth's surface."