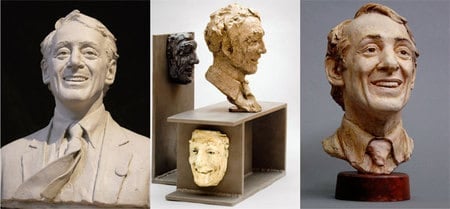 Three finalists in a competition to design the bust of gay rights activist and "Mayor of Castro Street" Harvey Milk went on display at San Francisco City Hall yesterday. The winning entry will be permanantly displayed in City Hall to honor the former City Supervisor, slain (along with Mayor George Moscone) by his fellow supervisor Dan White in 1978 in that same building.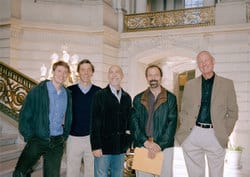 Bay Area artists Cedric Wentworth (second from right) and Bruce Wolfe (far right) and the team of Eugene Daub, Rob Firmin and Jonah Hendrickson (left). The entries above were designed by Wolfe, Wentworth, and the Daub-Firmin-Hendrickson team, respectively.
While Wentworth's entry features two masks with a stand-alone bust ("That's Harvey Milk coming out as being gay in public life and not keeping it secret anymore…The masks represent the theater of politics, but when you see the piece it has a mysterious, shrinelike quality to it."), the other two highlight Milk's positive spirit. Wolfe told the SF Chronicle: "In almost everything I looked at, he was smiling, you know, and just looked alive and vulnerable and like the whole world was ahead of him."
Photographer Daniel Nicoletta, who worked with Milk at his Castro Street camera shop, was pleased to see his friend honored: "To me, creating a place of pilgrimage inside City Hall is exactly the kind of continuation of the Milk legacy that we should be looking at."
The push to honor Milk with a bust began in 2001. The final statue is to be unveiled in May 2008, on what would have been Milk's 78th birthday.
Milk Memorial [website]
You may have missed…
Thank God for Harvey Milk [tr]
Vintage Gay Castro Images and Harvey Milk [tr]