Former figure skater-turned-commentator Mark Lund has released a statement regarding recent criticism of his public trashing of figure skater Johnny Weir. The clip was in our guide on Tuesday, but I'll post it here again for those who didn't see it.
Statement from Mark Lund:
"It has unfortunately become typical that journalists and members of the media who dare to comment about a celebrity or public figure that acts outrageously often come under attack. I see I am now one of those unfortunate targets. This is in reference to remarks I made during the television show Reflections on Ice regarding the reigning U.S. Men's Figure Skating Champion Johnny Weir.

My credentials in the sport and art of figure skating are well known, as is my orientation as an out gay man. I stand by my statement "overly out without being out" 100%. I say to Mr. Weir, "You enjoy being outspoken and a free spirit. You have said frequently that you have been brought up to speak your mind. However, you refuse to support the very community that paved the way for you." I say to all those that believe my comments about Mr. Weir were homophobic to take a step back and realize the beliefs you are actually expressing. Mr. Weir is an individual who enjoys all the rights of the gay community without coming out to support the gay community. Now who is the hypocrite here? Most certainly not me.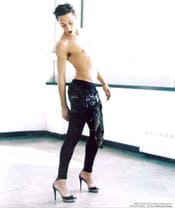 With Mr. Weir posing for photos wearing heels and elaborate makeup in the pages of BlackBook magazine, I say, 'Please don't insult the grand drag queens of yesterday and today, unless you thank them for their tireless efforts of days past and present by acknowledging them publicly.'

My comments regarding his costuming were nothing more than what you see in the newsmagazines and on TV when journalists critique celebrities on the red carpet. I have never liked his costumes and they have become more and more elaborate in recent seasons. They do not represent the sport of figure skating that I love. Why don't we take a look at the competitive costumes of skaters like Robin Cousins and John Curry. They understood classical elegance. Without a slight to great ballet dancers, my comment that Mr. Weir looks like a prima ballerina on the ice was meant to illustrate what I feel is his outrageous presentation of the sport and art of figure skating. I know I am not alone in my comments.

As a gay man who grew up in a small town in the 1970's, I was able to look up to those in the sport of figure skating—gay and straight—who earned my admiration through character, dedication and sportsmanship. I am glad to say some of them are great friends of mine today.

Mr. Weir is free to wear what he wants, but he should back it up with actions. No one denies his enormous talent, but my comments were meant to reflect my feeling that he prefers drawing attention for being outrageous to drawing attention for being a great figure skater. The subject of the show on which I made my comments was a preview of the U.S. Figure Skating Championships, which is a competitive sporting event.

To Mr. Weir, and his apparent legions of fans, to quote the old scoring system, there has been no 6.0 in your collective performances."
Unfortunately for Lund, I think he's still on the losing end of this argument.
You may have missed…
Johnny Weir Hasn't Lost Touch with his Feminine Side [tr]
Johnny Weir: Pin-up Princess [tr]