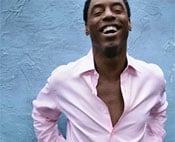 Grey's Anatomy picked up an award for "Best Television Seres – Drama" at the Golden Globes, and actor Isaiah Washington was still referencing the behind-the-scenes drama that hit the show's cast earlier this year.
Intent on assuring folks he has no hard feelings for TR Knight, whom he reportedly referred to as a "faggot" in a scuffle with co-star Patrick Dempsey on the Grey's set, Washington joked about it on the red carpet. Said the actor: "I love gay. I wanted to be gay. Please let me be gay."
Knight came out shortly after the incident in October.