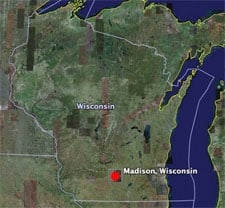 Most residents of Madison, Wisconsin did not agree with the rest of the state when they passed an amendment to the state constitution banning gay marriage last November. In fact, Madison residents voted 2-1 against the ban, and now some of them want to make their disagreement known.
A proposal is being floated to the city council which would allow elected officials to voice their dissent while taking their oath of office:
"Officials would have the option of signing a statement saying they took the oath under protest because the amendment 'besmirches our constitution.' They would pledge to fight to overturn the amendment and to minimize its impact."
Proponents of the plan say it would allow gays and lesbians and those supporting gay rights able to serve with "a clear conscience". Opponents of the plan say it would allow public officials to "pick and choose" the causes they wanted to support.
Madison's mayor, Dave Cieslewicz, says he supports the plan because for the first time in history, a constitutional amendment took rights away from citizens rather than adding them.