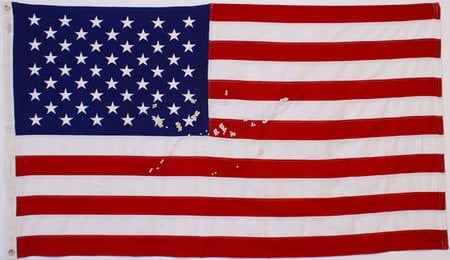 An installation by artist Michael Petry opening in New York this week takes a conceptual look at the issues surrounding gays and the nation's military.
In "Monument to an Unknown Soldier: Portrait of an American Patriot", Petry asked a gay American veteran of the war in Iraq to provide him with a sample of his own bodily fluids (a sexual discharge), which Petry then used as the pattern for pearl embroidery sewn into the flag. Petry intends it as a commentary on the military's "Don't Ask, Don't Tell" policy: "The soldier must remain unknown or face expulsion from an Army that was happy to see him serve, and possibly lose his life, yet not love nor make that love known." The flag itself flew over the U.S. Capitol on April 5, 1985.
Another work, "5star", consists of five star-shaped glass bowls meant to suggest a five-star general's decoration. The twist here is that each of the bowls takes its pattern from "the sphincter of five gay American porn stars whose films have the army as its erotic premise."
Says Petry in a press release: "In 2006 real members of the US Army were imprisoned for consensual same sex love, while soldiers who tortured and murdered Iraqi civilians were merely fined. The work opens itself to the viewer, yet remains five beautiful blossoms unaffected by any histories."
The exhibition opens January 18 and runs through February 4 at the Sundaram Tagore Gallery at 547 West 27th Street.